The NFL announced Tuesday that the game between the Buffalo Bills and the Cincinnati Bengals, which was paused after Bills safety Damar Hamlin collapsed on the field during Monday night's game, will not reconvene this week.
The announcement came shortly after the Bills confirmed that Hamlin, 24, remains sedated and in critical condition at the University of Cincinnati Medical Center's intensive care unit.
"NFL Commissioner Roger Goodell informed the clubs today that the Bills-Bengals game will not be resumed this week," the league said in a statement. "The NFL has made no decision regarding the possible resumption of the game at a later date."
It's unusual for the NFL to postpone a game ― a decision that reflects the severity of Hamlin's situation.
The Bills safety, who's played in every game this season, collapsed onto his back during the first quarter of Monday's game in Cincinnati moments after getting up from a tackle. Team trainers began treating him within seconds, and an ambulance arrived on the field in less than five minutes. His team later confirmed that he'd suffered cardiac arrest but that medics were able to restore his heartbeat before transferring him to the hospital.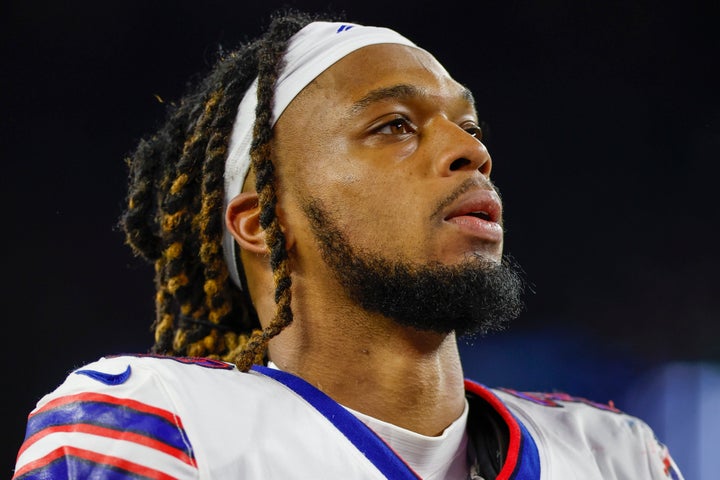 The incident prompted a strong emotional response from players, who were seen openly crying, kneeling and embracing each other after witnessing Hamlin's collapse. Out of respect for Hamlin and to give players time off in light of the incident, some teams, including the Houston Texans and the Indianapolis Colts, announced they were canceling their Tuesday media availability.
Bengals owner Mike Brown said Tuesday that his team is sending "thoughts and prayers" to Hamlin and his family and praised the showing of support he's witnessed across the league.
"Last night was supposed to be a great night for the NFL and a great showcase for our hometown. Instead, the human side of our sport became paramount … and in that moment, humanity and love rose to the forefront," he said.