Prince Harry claims in his new memoir that just two words sparked a fight between Meghan Markle and Kate Middleton, shortly before the Duke and Duchess of Sussex were wed in 2018.
In an excerpt loosely translated by the outlet on Thursday, The Sun says the clash kicked off when Meghan reportedly told Kate over the phone that she had "baby brain." Kate had recently given birth to her third child, Prince Louis.
According to The Sun, Harry told Meghan that she'd upset Kate, and Meghan explained that her comment was how she spoke with her friends.
Prince William then "pointed a finger at Meg" and apparently said: "Well, it's rude, Meghan. These things are not done here."
Meghan responded: "If you don't mind, keep your finger out of my face."
Reports eventually surfaced that at some point prior to the wedding, Meghan made Kate cry. It seems, however, that it was actually the other way around, as Meghan told Oprah Winfrey in a sit-down interview in 2021. Kate has acknowledged she was the one who made Meghan cry.
In his book, Harry writes that he wanted Kensington Palace to correct the narrative about Kate upsetting his wife, but they would not.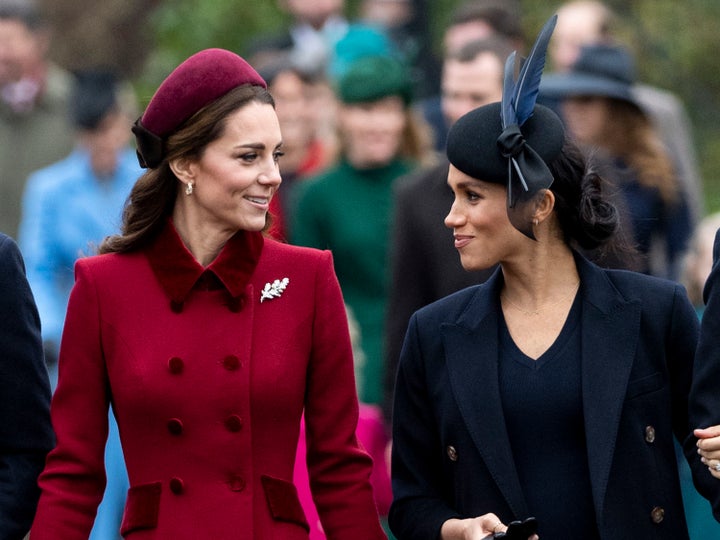 "The reverse [of what was reported] happened," Meghan told Winfrey in their interview. "And I don't say that to be disparaging toward anyone, because it was a really hard week of the wedding. And [Kate] was upset about something, but she owned it and she apologized and she brought me flowers and a note apologizing and she did what I would do if I knew that I hurt someone, right? To just take accountability for it."
"What was shocking was, six or seven months after our wedding, that the reverse of that would be out in the world," Meghan added.
When Oprah asked why the palace press offices didn't correct the narrative when the opposite version was published, Meghan replied: "That's a good question."
"I would hope that [Kate] would've wanted that corrected," she continued. "Maybe in the same way that the palace wouldn't let anybody else negate it, they wouldn't let her. Because she's a good person."
More bombshells from Prince Harry's leaked memoir, "Spare":