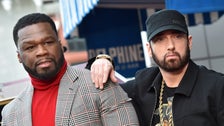 50 Cent, whose transition from multiplatinum rapper to successful television producer continues to impress, revealed Friday that he is working on an "8 Mile" TV show. The 47-year-old said Eminem, who starred in the semi-autobiographical 2002 film, is on board.
"I'm gonna bring his '8 Mile' to television," 50 Cent, whose real name is Curtis Jackson, told Power 106 radio host Big Boy in an interview published Friday.
The Curtis Hanson film — which followed an impoverished battle rapper in the slums of Detroit — and its soundtrack single "Lose Yourself" strongly mirrored the life of its star Eminem (whose real name is Marshall Mathers) and earned him an Oscar for Best Original Song.
"It's gonna be big," added 50 Cent after being asked about the project. "I'm working. I ain't got no duds. I'm batting 100. I think it should be there for his legacy because it's important to me that they understand it."
The New Yorker said the series will offer a backstory to the film and follow Eminem's character in his younger years. 50 Cent told Big Boy he was excited to share that story with newer generations who might not recognize Eminem's invaluable impact on hip-hop.
"I'm here today because this is not only a business partner to me, it's one of my best friends I've ever known in the world," Eminem said at 50 Cent's Hollywood Walk of Fame induction in 2020. "It's much more fun to be his friend than it is to be his enemy, 'cause this guy is fucking relentless."
50 Cent previously revealed that his surprise appearance at the 2021 Super Bowl halftime show was only made possible after Eminem vowed not to perform unless 50 Cent was given his own slot.
Eminem "is the man," 50 Cent wrote on Instagram after the halftime show won an Emmy. "He wouldn't do the show with out me that's my boy." Eminem performed "Lose Yourself" at the 2020 Academy Awards and was inducted into the Rock & Roll Hall of Fame in 2022.
50 Cent, meanwhile, has proved himself to be a powerful television producer in recent years. His crime drama "Power," for instance, palpably renewed interest in the Starz network and was turned into a franchise that now spans four different series.
Whether an "8 Mile" series will similarly grab hold of audiences 20 years after it hit theaters remains to be seen.