PASADENA, Calif. — Keep ringing the bell at "Abbott Elementary." The celebrated ABC workplace sitcom, created by and starring Quinta Brunson, has been renewed for a third season, network President Craig Erwich told reporters Wednesday at the Television Critics Association's winter press tour.
The announcement was preceded by a humorous pre-recorded message from actor Lisa Ann Walter as one of the show's characters, veteran teacher Melissa Schemmenti, interrupting Erwich.
"Is this thing on?" she said in the recording.
"I heard there was this gathering of important people. So what, I don't get an invite? Unbelievable!" she quipped before announcing the show's renewal as "the reigning Abbott read-a-thon champion."
A rarity for network television these days, the show has become appointment television each week, generating memes and endlessly quotable lines. "Abbott" has also earned widespread critical acclaim and awards recognition, including winning Best Comedy Series at Tuesday night's Golden Globes — the first network TV show in nearly a decade to win — as well as three Emmy Awards for its first season in 2022.
Brunson — who, earlier in her career, produced videos at BuzzFeed, HuffPost's parent company — specifically wanted "Abbott" to be on a traditional broadcast network so it could be a communal viewing experience for families.
"I love network comedies. I love broad TV," Brunson told HuffPost last year. "I think most millennials take their stories to streaming because you get to be more raunchy there, but I enjoy making a show for families to watch around the TV, how I watched TV when I was younger. Going to ABC felt like the natural choice. It was something about the team at ABC. I was like, 'They're gonna let me cook.'"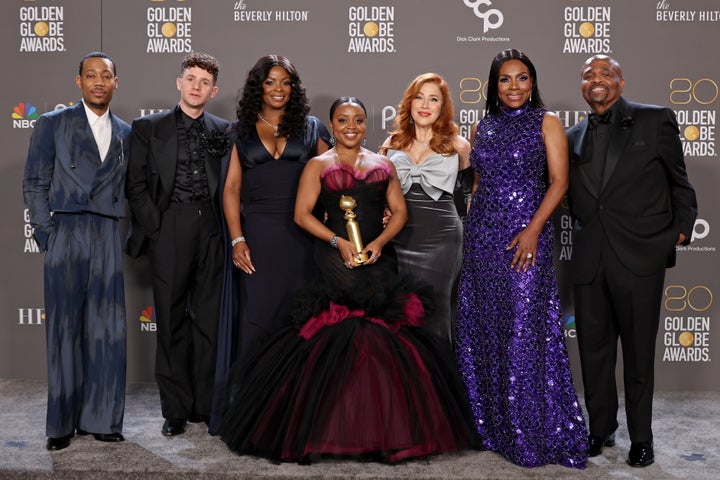 Inspired by Brunson's mother's career as a Philadelphia public school teacher, the mockumentary-style show has been praised for portraying both the joys and frustrations of working in public education and for spotlighting Black and brown educators and students.
The show's ensemble cast includes Brunson, Walter, Sheryl Lee Ralph, Tyler James Williams, and Chris Perfetti as teachers at the titular school. Scene-stealer Janelle James plays the school's hilariously inept principal, Ava Coleman.
Accepting the Golden Globe for Best Comedy Series on Tuesday night, Brunson said: "During a very tough time in this country, I'm happy that 'Abbott Elementary' is able to make people laugh."