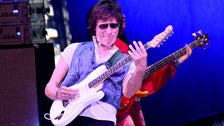 The rock world was stunned on Wednesday by news of the sudden death of guitar legend Jeff Beck.
Beck's family announced that the two-time Rock & Roll Hall of Famer died Tuesday after a short battle with bacterial meningitis.
Beck, who had just completed an album and concert tour with actor Johnny Depp, was one of the most influential guitarists of all time, playing across genres including rock, jazz, blues and metal.
Rod Stewart, who rose to fame as vocalist of the Jeff Beck Group in the late 1960s, said the guitarist was on "another planet."
"He was one of the few guitarists that when playing live would actually listen to me sing and respond," he wrote on Twitter. "Jeff, you were the greatest, my man."
Rolling Stones guitarist Ronnie Wood, who was also part of the Jeff Beck Group, also paid tribute on Twitter:
Joe Perry of Aerosmith called Beck "the Salvador Dali of guitar."
"To see him play was to hear the ultimate 6 string alchemist create magic in a world of its own," he wrote on Twitter. "With his passing, the world is a poorer place."
Gene Simmons of KISS called the news "heartbreaking."
"No one played guitar like Jeff," he wrote on Twitter. "Please get ahold of the first two Jeff Beck Group albums and behold greatness."
Other rockers also took to Twitter to pay tribute: