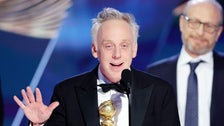 "The White Lotus" creator Mike White delivered one of the most amusing speeches of the evening Tuesday when his show won the Golden Globe for best limited series. In a feat of liquid courage, White confessed he was drunk — but hilariously plowed ahead.
"Oh, my God. I'm still so choked up over Jennifer's speech," said the showrunner, appearing on the verge of tears, in reference to "White Lotus" star Jennifer Coolidge's earlier acceptance speech for best actress in a limited series.
"But, anyway, I was gonna give this speech in Italian but I'm too drunk because there's no food," White said. "The food — when you got there, they were like, 'The food is over, you can't have any. It was just drink.'"
White then turned his attention to the streaming service that gave "White Lotus" a home and his cast, which includes F. Murray Abraham, Aubrey Plaza and Michael Imperioli.
"So, thank you to HBO. If there's one place that gets you, let it be HBO," he said, adding a thank you to the Hollywood Foreign Press Association, which presents the Golden Globes.
"And thank you to these guys," White continued, gesturing to the other members of the "White Lotus" team who joined him onstage. "I would take a bullet for you guys. Maybe not in the heart, but in the foot or the leg or whatever. And I want to thank all the actors."
White said he had been determined to create a show with Coolidge at the center but that "everybody passed." He pointed into the crowd and said, "I know you all passed, you all passed on this show," adding that it was "gratifying to have this moment."
Coolidge had already stolen the evening, reducing audience members to tears of laughter while presenting an award and accepting her own earlier in the night. With her now-classic deadpan delivery, she thanked White for her role as Tanya in the series.
"You've sort of changed my life in a million different ways," the actor said. "And my neighbors are speaking to me, things like that. No, I mean it! None of those people — I was never invited to one party on my hill, and now everyone's inviting me!"
Coolidge continued: "He really is one of the greatest people I've ever met, he gives me so much excitement to be — you make people want to live longer and I didn't. So I just want to say, Mike White … I love you to death. … I just want to say this has been a fun night."