In their first public appearances since Prince Harry released a memoir publicly airing strife within the royal family, King Charles, Prince William and Kate Middleton put on a united front ― including by declining to talk to reporters.
The memoir, which officially came out on Tuesday, leaked in its entirety last week after bookstores in Spain began selling and giving it away despite extreme security measures and a strict embargo date.
Neither Kensington Palace nor Buckingham Palace has commented publicly on claims made in the book or the Duke of Sussex's recent media appearances.
Members of the royal family stuck to the same plan on Thursday, as the Prince and Princess of Wales and King Charles headed out on separate outings and spoke with members of the public along the way. The fact that the events were on the same day was notable in itself ― typically, members of the royal family try not to overlap their engagements in order to draw more attention to their outings.
The monarch did not speak with reporters during his outing in Aberdeenshire, Scotland, where he was visiting the Aboyne and Mid Deeside Community Shed.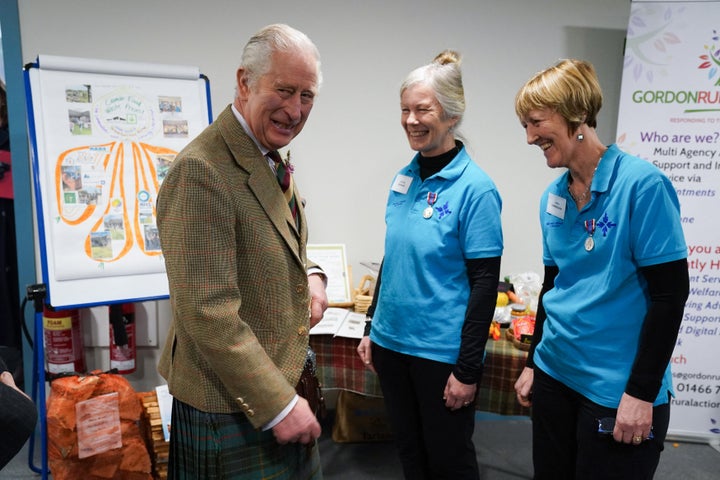 William and Kate visited the Royal Liverpool University Hospital and the Open Door Charity in Liverpool.
The two did not respond to a question about Harry's book prior to heading into the hospital, as captured on video by People magazine's Simon Perry. It's unclear whether they intentionally ignored the question or did not hear it.
At the other event, William did not respond when a reporter asked if he'd "had a chance to read your brother's book at all." Lizzie Robinson of ITV News shared a video:
Though the royals rarely speak directly to the press during engagements, shouting a question was worth a shot; William responded to a reporter's query in 2021, just after Harry and his wife, Meghan Markle, spoke in a bombshell interview with Oprah Winfrey.
He told a reporter at the time that hadn't spoken to his brother yet, "but I will do," and said that the royals were "very much not a racist family."
Harry spoke about his fractured relationship with his brother and father in both his memoir and his numerous media appearances.
During his interview with ITV's Tom Bradby on Sunday, the duke claimed that while his family has "shown absolutely no willingness to reconcile," he does want Charles and William "back."
"At the moment, I don't recognize them," he said, adding, "As much as they probably don't recognize me."
While the royal family has refrained from public comment on claims by Harry and Meghan, they've made more subtle cues that their side remains unified. Hours after the release of the final episodes of Netflix's "Harry & Meghan" docuseries last month, the family appeared together at a holiday event organized by Kate Middleton to honor the late Queen Elizabeth.
At the event, some of the women in the royal family dressed in the same color, seemingly in direct response to Meghan's claim in the series that there was a rule against wearing the same color as other family members at events.
More revelations from Prince Harry's "Spare" memoir and media tour: