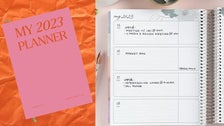 Starting the new year off with a fresh planner is one of my most highly anticipated annual traditions. It keeps me organized, on schedule and on top of important day-to-day tasks as well as long-term goals.
Professional planners also appreciate the benefits of of committing their schedules and to-do lists to paper.
David Tutera, a Los Angeles-based wedding and entertaining expert, feels accomplished when completing his to-do lists: "There is something motivating about being able to break large tasks down into smaller bite-sized pieces and check them off," he told HuffPost. "At then end of the day, you'll always be able to find a sense of accomplishment looking back at your list."
There have even been studies to support this claim. They attribute a particular neurological response that's associated with an increased likelihood in carrying out and completing goals once they are written down.
Event planners and fellow hyper-organizers like myself have come together to provide you with the upcoming selection of planners, agendas and journals that can help maximize work flow and keep you on top of things this year and beyond.
HuffPost may receive a share from purchases made via links on this page. Every item is independently selected by the HuffPost Shopping team. Prices and availability are subject to change.