The path on which I'm riding my e-mountain bike across the hills of north Pembrokeshire is known as a bridleway, but to Ed Sykes, who grew up in these hills, it's an "e-trail". Ed is the founder of Hidden Routes in Newport (between Cardigan and Fishguard), an e-mountain biking outfit that takes clients on guided rides through what is probably the least-known corner of Pembrokeshire.
He came up with the term "e-trail" because, he says, he "wanted a name that differentiated what we do from regular mountain biking. Our routes are rideable on a normal mountain bike, of course, but we just reckon they're more fun – and easier – on an e-mountain bike."
Ed tells me this as we take a break from riding our state-of-the-art (and rather pricey) Orange Phase e-bikes beneath the summit of 347-metre Carn Ingli to enjoy a wintry view across the wide sweep of Newport Bay.
Heavy rain showers blowing in from the Irish Sea have washed the landscape so that its colours glisten in the watery sunshine – the distant steel-blue sea throws bright white waves on to golden sands that give way to glossy green fields criss-crossed by a maze of drystone walls and ancient hedges. Above these are wind-blown moorlands and the boulder-strewn summit of Carn Ingli, where Saint Brynach is said to have communed with the angels (the preponderance of magic mushrooms growing hereabouts had nothing to do with his supernatural conversations, of course).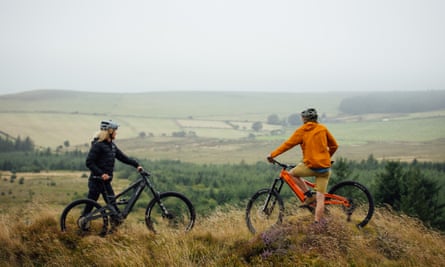 Hidden Routes is a new venture that employs local mountain bikers as guides. "They have been riding in Pembrokeshire for years and know all the hidden trails and bridleways that you'd struggle to discover on your own – hence the name," says Ed.
It's all very different from trail-centre riding (although Hidden Routes also offers that option at the recently opened trail centre on the shores of Llys-y-Frân reservoir near Haverfordwest) and I can see what Ed means already, even though we've barely ridden three miles.
The network of bridleways, country lanes and "boats" (bridleways open to all traffic) along which we've travelled is the kind of intricate cat's cradle that you get to know intimately only through years of exploring, and a prime consideration for Ed has been that the trails are rideable in all conditions. Again, local knowledge is essential here: the frequent heavy rains of west Wales can literally turn some trails into streams at times. When that happens, "we simply head off somewhere else", Ed says.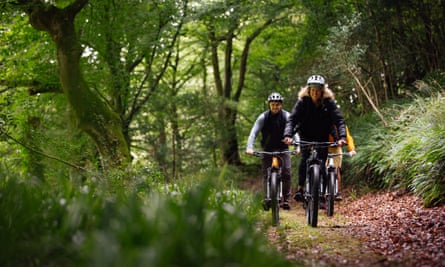 At this stage we're some 300 metres above sea level, the high point of today's ride, which was reached without undue exertion thanks to our bikes' electrical assistance, although it requires a reasonable level of fitness as you do still have to pedal.
But the next stage of the 15-mile circuit is easy and exciting – a steep downhill across fields and into the sheltered woodlands of the Gwaun valley, an extraordinarily beautiful part of Pembrokeshire that is rarely on the tourist trail even at the height of summer. When nearby beaches will be packed with visitors, the valley retains its bucolic solitude.
You can almost feel the past hanging in the air, as this is one of the few places in the western world that doesn't use the Gregorian calendar – instead the valley's residents acknowledge the Julian calendar (abolished in the rest of Britain in 1752) and see in the new year on 13 January in a celebration known as Hen Galan (old New Year).
At this time of year, low light and thick tree cover mean the valley is wrapped in gloom, but we ride only a few hundred metres before splashing through a ford and then climbing out of the valley on a steep, muddy ascent that would be virtually impossible on a regular mountain bike. In minutes we find ourselves puffing and panting (yes, even on e-bikes) on the shoulders of the Preseli hills.
These ancient peaks make the calendar shenanigans of the Gwaun valley seem like recent history – some of the trails that wind through the Preselis have been used for thousands of years, and some are now used by Hidden Rides to allow their clients to discover the highest hills in south-west Wales.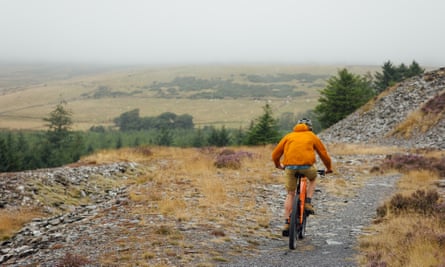 We follow a fast bridleway across open moorland on the eastern flanks of Carnedd Meibion Owen, with views stretching north across Cardigan Bay all the way to Snowdonia, before dropping down a section of testing, rocky single track into Tycanol nature reserve, an idyllic woodland pasture of oak, ash and birch that looks much the same today as it would have done to the neolithic people who built Pentre Ifan, a chambered dolmen just a few hundred metres off our route.
By now we're heading back towards the coast, eventually whizzing along the wooded north bank of the Afon Nyfer, through the pretty village of Nevern and up, over and down on a minor road (the only ashphalted section of any length on our ride) to Newport and Hidden Routes' base at the award-winning Llys Meddyg hotel.
This is where we get our reward for our (relatively) hard work and splattering of mud – Llys Meddyg is a Georgian coaching house on the edge of Newport whose large, bright and comfortable rooms are decorated with works by Pembrokeshire's best-known artists. The hotel's restaurant focuses on foraged ingredients from the surrounding coast and country. After a hot shower I join Ed for an après-bike dinner of roast parsnip, wild mushroom and chestnut gnocchi plus the best treacle tart I've had since my mum's when I was a kid.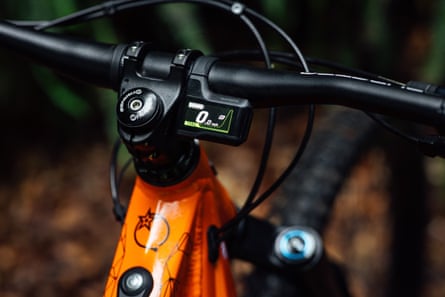 Then it's down to the Cellar Bar, the oldest part of Llys Meddyg, built on the site of a 15th-century mariners' tavern. With my cheeks still glowing from the ride, the logburner and inglenook fireplace combined with a cheeky cocktail or two make me feel as if I've just come back from a day's skiing to a cosy mountain chalet.
Pembrokeshire's modest peaks will never compete with those of the Alps for altitude and drama, of course, but for history, culture and character they're hard to beat, as is exploring them by e-bike on the region's newly minted e-trails.
Hidden Routes offers two days' guided riding with bike hire (including cycling helmet) and two nights' accommodation (including breakfast and dinner) at Llys Meddyg for £349pp based on two sharing. Half-day guided rides are also available for £75, including bike and helmet hire