We did it for the first time in a Holiday Inn on Jericho Turnpike.
Like teenagers — but in our 50s — Steven and I "got a room." When we were young, we worried about our parents catching us. Now, we had our own teenagers to sneak around.
I was working in a preschool program alongside three other single women. During the kids' naptime, I shared news of Steven's and my upcoming rendezvous. I hadn't "rendezvoused" in eight years. That's when my first husband died in a car accident on his commute home from work. I was about to end that lengthy dry spell with Steven, a dear man I'd met on Match.com.
"What will you wear… to bed?" asked Gladys, a big bossy widow in her 70s who lived with a pet rabbit named George.
"I usually sleep in sweats," I told her.
Gladys raised her penciled-in eyebrows and tsk-tsked. "You're not showing up at a hotel room in sweatpants, are you?" she asked.
I hadn't considered logistics. A big-picture person, I didn't encumber myself with details like bedroom attire.
I was about to be encumbered.
Gladys started sharing tips on how I should present myself.
"A good foundation and lipstick are paramount," she said, steeling her eyes on my bare face. "Clothing must match the occasion — and the setting: work, Stop & Shop… the boudoir."
Gladys spouted store names (I'm pretty sure I heard "Frederick's of Hollywood"), styles (baby dolls and bustiers), and fabric (silk, her favorite). The other women leaned in to glean what they could from Gladys's wisdom. I settled back in my chair and imagined Gladys in the boudoir wearing a hot pink lace teddy, her bountiful breasts and belly neatly tucked into a skimpy stretch of a thing. As big band tunes played on a CD, her ferocious hips swung to the music, with George hopping beside her to the beat. Each strand of Gladys's chin-length hair remained in place, thanks to the miracle of Aqua Net.
"Never underestimate the power of lace," Gladys declared.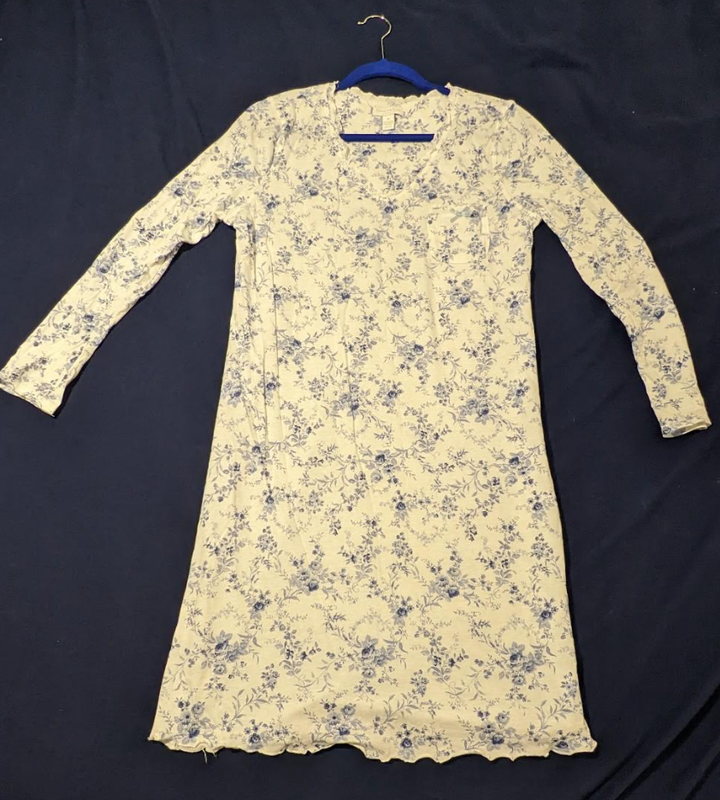 That evening, I drove to the Roosevelt Field Mall in Carle Place and tried on every black lace, red satin, virginal white negligee that Victoria's Secret had in stock in my size.
But I wasn't Gladys. Those sexy get-ups weren't me. So I went to Macy's and picked out a knee-length cream-colored flannel nightgown sprinkled with delicate blue flowers — the exact blue of my eyes. Perfect!
Steven's Match.com profile said he'd recently switched careers from chiropractic to teaching. He had three children he adored. Steven was handsome with salty hair, warm eyes, and a generous smile. Even considering the cringeworthy picture of him in a bicycle helmet, he was worth a shot. So I sent him an email. Short and to the point ― my M.O.
"Hi. I like your profile. Want to talk?" I asked. I left my number and the rest up to him.
We went to comedy clubs — we laughed. We ate dinners out — mostly pasta and red wine. We sweated together — on hikes. When my nose kept running on one steep, woodsy trail, Steven offered me the long sleeve of his favorite plaid shirt. "Blow," he said. That might have been love.
We dated for three months before I finally agreed we should go to the Holiday Inn. Steven, among many other wonderful things, was patient. He was patient after our make-out session in the woods, after the numerous times we'd steamed up the windows in his car. We'd had more than a few "almosts," but for some reason, right before the moment of entry, I'd slam on the brakes.
Since my husband died, I'd been stuck in the tundra of sudden loss. As long as I remained frozen, I told myself I'd be safe from agony again. But that was a lie. There are no guarantees of safety, and the tundra is a lonely place to live. Steven added warmth to my days. Now I was about to defrost fully.
I felt ready. Excited. And, still, I was more than a bit apprehensive.
"I'm a born-again virgin," I semi-joked with friends. "Will I remember what to do? What if my hymen grew back?"
Now here I was with him in a hotel room. We had planned earlier in the week to settle in, get dinner, then… I made another suggestion: "Want to… do it now?"
Steven had been waiting three months. Me? Eight long years. Why would we wait a minute longer?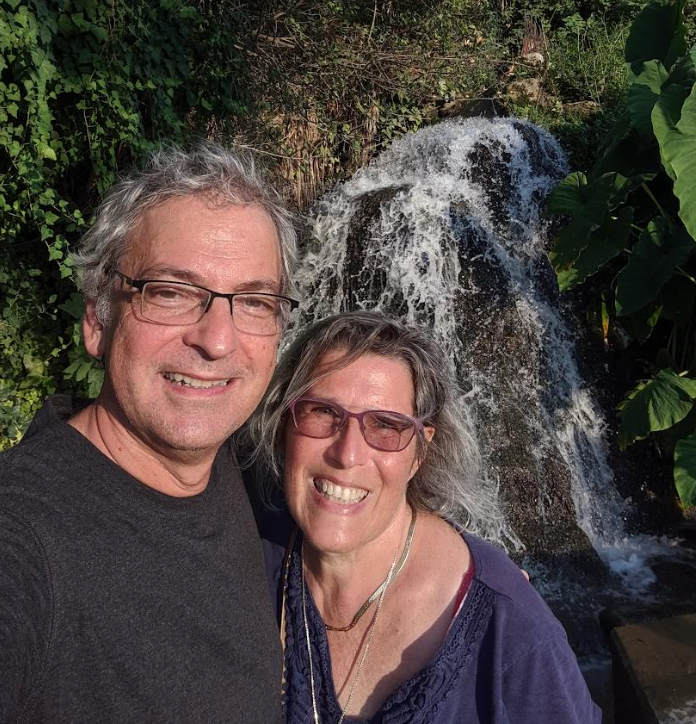 I went into the bathroom, changed into my nighty, and entered the room. Steven was waiting for me. While I had told him about my conversation with Gladys and my trip to the mall, I hadn't mentioned flannel. He wasn't disappointed, though. Steven didn't care what I wore on my body — he wanted to get underneath.
The sex was fast yet gentle. The word "lovely" comes to mind. Enlightening, too. My body remembered what to do. Just like getting back on a bicycle — helmet optional. It seems the only thing I had forgotten was how much fun it was to ride a bike. How much ground could you cover in just a short time? How much of the world could you see?
What was it that had felt so big about having sex again? Sex. That very natural next step couples take when they are — or aren't — in love. I was no longer a child. Nor was I a teen experimenting with desire. I was an adult — an older adult — who had loved for many years, both in and out of bed. So why, exactly, had I waited so long?
My husband and I met and started dating when I was fifteen (he was an "older man" — at sixteen.) He had been my first sexual partner and — until that night at the Holiday Inn — my only sexual partner. We had been together for twenty-nine years. During all that time, not once had we discussed how we'd move on if one of us died. We were young. We were healthy. Death? It just wasn't in the cards.
Until death was exactly the card we were dealt.
Was becoming a born-again virgin my weird attempt at remaining loyal to the man who had been my first in so many ways? Was my no-sex life anything more than a self-imposed chastity belt binding me to a relationship that could no longer be? During my "almosts" with Steven, had I hit the brakes because I conflated having sex again with some sort of horrible crash?
I loved Steven. Even in those first three months, I'd entertained thoughts of spending the rest of our lives together. But letting him in, fully in, would mean I'd have to let go. I'd have to move on from the man I'd loved first, who tragically "moved on" eight years before. I'd have to make the choice to start living again.
Everything suddenly made sense in the strange way that trauma does. Trauma binds you to the past, to fear, and to seemingly endless grief. But after eight years, after meeting and falling in love with a dear, kind man who loved me back, I was ready to become unbound. I decided to let go — and to let Steven in. It was a wonderful decision.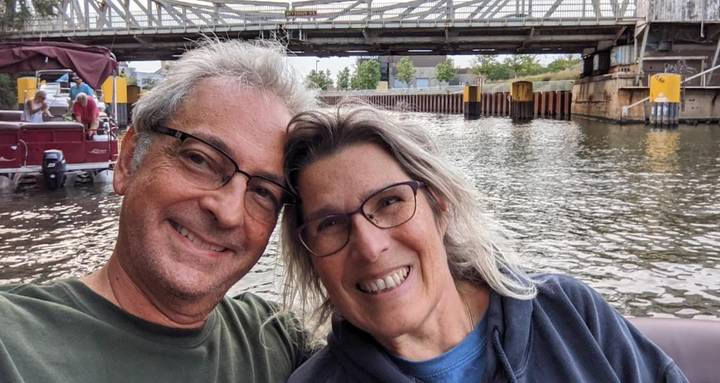 Steven and I recently celebrated our eighth wedding anniversary. We've also moved to Florida. I'm forever done with tundra. I have grown very fond of warmth and sunshine.
I still wear flannel. On occasion, I add fishnets to the mix. Gladys, I'm sure, would approve.
Note: Some names and identifying characteristics have been changed to protect the privacy of the individuals mentioned in this essay.
Diane Gottlieb MSW, MEd, MFA, is an award-winning author, educator, mom, grandmom, and partner. Her nonfiction, fiction, and poetry appear or are forthcoming in River Teeth, The Rumpus, Hippocampus, SmokeLong Quarterly, among other literary journals and several anthologies. She is the founder of WomanPause.com, a blog dedicated to women over 50 rediscovering themselves, and is the Prose/Nonfiction Editor of Emerge Literary Journal. Diane is currently querying a novel, working on a collection of essays, and editing the anthology "Awakenings: Stories of Body & Consciousness." She'd love to connect with you on Twitter, Facebook, and Instagram @DianeGotAuthor or at dianegottlieb.com.
Do you have a compelling personal story you'd like to see published on HuffPost? Find out what we're looking for here and send us a pitch.