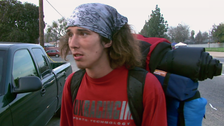 "Dog Gone" is currently the most popular movie on Netflix, according to the streaming service's public ranking system.
Rob Lowe stars in this biographical drama based on the true story of a family's search for its beloved dog after he goes missing on the Appalachian Trail. The film premiered on Jan. 13 to mixed reviews.
In second place is a new documentary called "The Hatchet Wielding Hitchhiker." It's a true-crime story that chronicles one man's viral video stardom and subsequent implication in a brutal murder.
A couple of fictional murder mysteries are also trending at the moment. "The Pale Blue Eye" follows a detective who teams up with young military cadet Edgar Allan Poe on a West Point case, while "Glass Onion: A Knives Out Mystery" focuses on a group of friends whose vacation takes a dark turn.
As for lighter fare, the 2010 Amy Adams rom-com "Leap Year" made the rankings, as did the 2003 comedy "Daddy Day Care" and the 2016 kids' movie "Trolls."
Check out the full list of the top 10 movies. And if you want to stay informed about everything joining Netflix each week, subscribe to the Streamline newsletter.