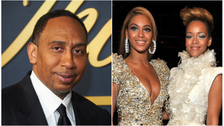 ESPN host Stephen A. Smith has issued an apology to Rihanna after he recently quipped that the nine-time Grammy winning music and beauty icon "ain't Beyoncé."
Smith said in a video apology he posted on Twitter Wednesday that he was going to "own" his remarks about Rihanna's upcoming Super Bowl halftime show ― although he appeared to put some blame on the media for the way in which his comments were reported.
"I know what y'all are trying to do, but I'm going to own it because I get paid to speak for a living so I need to be more careful," he said. "I want Rihanna to know, you're a superstar, you're sensational, you're spectacular, you're no joke, and you are a worthy person to be doing the Super Bowl halftime show."
Smith then said that he is a fan of Beyoncé, who he called a "phenomenal performer," and that he only compared the two superstars because Beyoncé has performed the halftime show twice.
"I thought those were two of the greatest shows that I've ever seen," he said. "So what I'm saying is, anybody has to measure up to that."
Smith made the remark during an appearance on Sherri Shepherd's daytime talk show "Sherri" on Wednesday.
When Shepherd asked Smith if he was excited to see Rihanna take the stage at the big game, the sports commentator responded: "I don't want to say I'm not excited, she's fantastic. That's not where I'm going with this."
"Ladies and gentlemen, she's a lot of things, she's spectacular, actually — and congratulations on new mama hood," he continued. "There's one thing she's not: She ain't Beyoncé."
He later added that he loves Rihanna "dearly" but that, "there's Beyoncé and there's everybody else."
Smith's snide comment drew boos from the studio audience, and it, predictably, later sparked a firestorm from Rihanna fans on social media.
In 2013, Beyoncé memorably headlined a spectacular Super Bowl halftime performance, which included an appearance from her former Destiny's Child bandmates Kelly Rowland and Michelle Williams.
The Queen Bey then stunned fans in 2016 when she performed her new single at the time, "Formation," during Coldplay's halftime show, which also featured Bruno Mars.
Fans of Rihanna have continued to express their excitement to see the singer's halftime show since she first announced her participation in the event in September. Her last major live performance was at the 2018 Grammys, according to Billboard.
Rihanna's boyfriend, rapper A$AP Rocky, recently declared that he is most thrilled about Rihanna's performance at the Super Bowl on Feb. 12.
The rapper, who welcomed a baby boy with the singer in May 2022, told Zane Lowe on Apple Music 1 that he's "super excited" about the show.
"This is huge. This is incredible. I'm so glad that my lady's back making music again and whatnot, and getting back out there," he said.