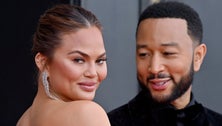 On Thursday, the model posted an Instagram photo of the couple's two older children, Luna and Miles, holding the new baby, named Esti Maxine.
"The house is bustling and our family could not be happier," Teigen wrote in a caption for the post. "Daddy sheds nightly tears of joy seeing Luna and Miles so full of love, and I am learning you still need diapers with a c section!? We are in bliss. Thank you for all the love and well wishes – we feel it all!"
Legend shared the same photo to his Instagram account, writing that he was in awe of Teigen's "strength and resilience."
Esti Maxine was born Jan. 13, Legend said, adding that Luna, 6, and Miles, 4, have embraced the newborn.
In an Instagram post from December, the cookbook author poked fun at people who have said that her pregnancy felt longer than it actually was.
"Omg I feel like she's been pregnant foreverrrrrr," she wrote, imitating the kinds of remarks she would hear. "How do you think I feel thank u."