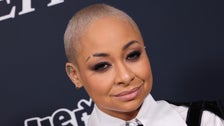 The "That's So Raven" star recently shared on her TikTok account that her name has been mispronounced her entire career.
In overlaying text on the TikTok video, the Disney alum wrote that her name is actually pronounced "See-mon-ye" ― not "Si-moan," as many people thought.
The video confused many of her followers, who pointed out in the comments that she used to pronounce her name as Raven "Si-moan" when she did promo videos for the Disney Channel.
"The whole time 'I'm raven simone and you're watching Disney channel,'" one commenter wrote, receiving over 4,000 likes. "you could have said it right cause how they gon make you say your own name wrong."
Raven-Symoné didn't explain why she had let the mispronunciation slide, but she's spoken before about feeling pressure to fit into a mold as a young actor.
In 2016, she said in an "It Gets Better" video that although she knew she was gay at age 12, she felt like she couldn't be honest about her sexuality because she had been "branded at such a young age" to fit the Disney network's image. She came out publicly when she was 27 in 2013.
"I never thought I would come out because my personal life didn't matter," she said at the time. "It was only what was supposed to be sold as the Raven-Symoné brand."
Raven-Symoné is not the only celebrity to correct the record on their famous name after years of mispronunciations.