Dear readers/followers,
Danone (OTCQX:DANOY) has been a company I've written about in the past – and I also own a nice little position in the business, as with most companies that I write about. Danone is a great business – and I'll happily debate anyone who considers this company different in the long term. This is a massive player in Dairy, with a history going back 100 years. It's a Nestle (OTCPK:NSRGY)-similar, but Nestle is much better at this time, because of how Danone has been pressured due to inflation, geopolitical macro and SCM. Last, I covered Danone in Feb 2022.
In this article, I'm going to update my thesis on Danone.
Danone – Revisiting the company
The company has the very enviable position of owning a full 5% of the global Dairy market. Now, 5% might not sound all that much – but given that we're talking about a global market, this is very impressive.
And further, the company has even more attractive ownership. It's the market leader in Yogurt, with a 20% global market share, and it's also #2 in bottled water, and only Nestle is ahead of the company.
Here is a selection of the brands that Danone owns – and you'll likely know several of these.

One of the previous challenges I highlighted for Danone was the ownership of Chinese Mengniu and other operations. China remains a higher-volatility and High-risk segment, which needs to be talked about. Danone is a global company, with an emphasis on global. Its products are sold on every single continent on earth, and there are fewer countries where the company's products are not sold than they currently are.
The biggest geographical markets are by far the USA with 20% of sales – though this is not as significant exposure as it is for Nestlé. France is another 9%, and China is also 9%. Just as with Nestlé, emerging markets contribute to nearly 50% of the company's sales – so continents like South America, Africa, and other emerging markets are highly important to the business.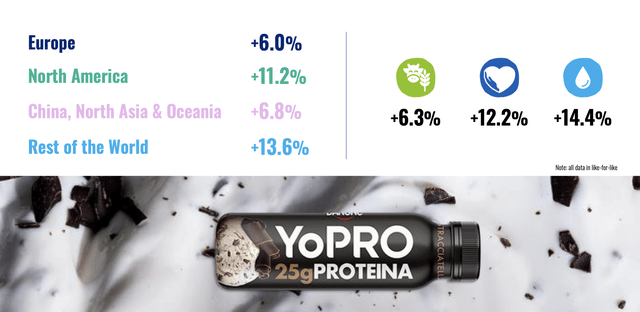 The latest company results are so-so. We have 3Q22 results for the company, with superb top-line results. Sales were up 19.1% or nearly double-digits on an LFL basis, with pricing up 11% and volume/mix down. What this means is that the company has increased its pricing, but is actually selling less. However, the company is accelerating sales in all of the geographies and categories – NA, Europe, China, and the rest of the world, with double-digit growth in both 11.2 and 13.6% in NA and the rest respectively.
The company isn't fully done in Russia yet. The company has initiated its transfer of control of the EDP Russian business, but we'll see when it finishes and wraps up. The company has also updated its guidance for 2022, with net sales growth of 7-8%, up around 1-2% compared to the latest guidance, and a recurring OM of 12%.
The company's margins are, therefore, mostly intact.
The environment is challenging for sure – but Danone is performing pretty well. Also, this sort of environment really highlights the sort of brands and sub-divisions that don't "have what it takes" to survive or thrive in the very competitive environment here – and Danone obviously can't afford to have such brands around.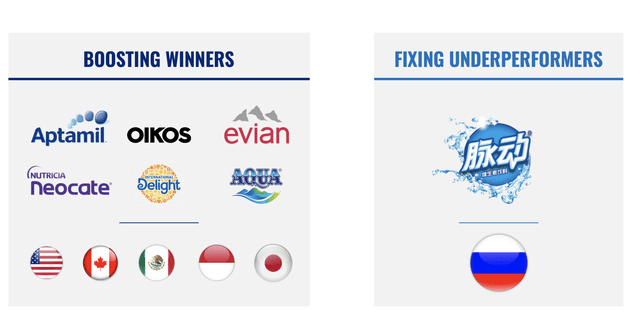 This "crisis" is a good opportunity for the company to "fix" some of its brand and portfolio issues, which Danone does have to a higher degree than say, Nestle does. The company is cutting down fat and focusing on fewer, but better and complementary brands. Like many companies, Danone is essentially focusing on what the company knows best – Dairy. This includes things like Activia, Actimel, Oikos, Danette, Danonino and Danone – all complimentary. Doing it like this overlaps without resulting in cannibalization, a very important thing to be aware of.
The company is also pushing consciously more into infant formula, and nutrition, which is showing good results.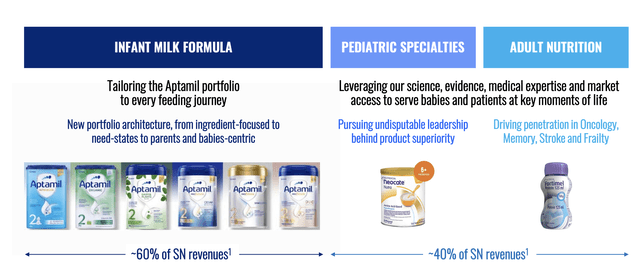 Let's also not forget that Danone owns some of the market leaders in plant milk. It's Dairy, but much like with other products, I'm a firm believer that it's the market leaders that will remain market leaders in new segments. The companies that everyone seems to crow about in the new term, they'll either fail, be absorbed, or be outperformed.
A good example in this field is Oatly. Let me just put it in simple terms and say that things are not going well for Oatly.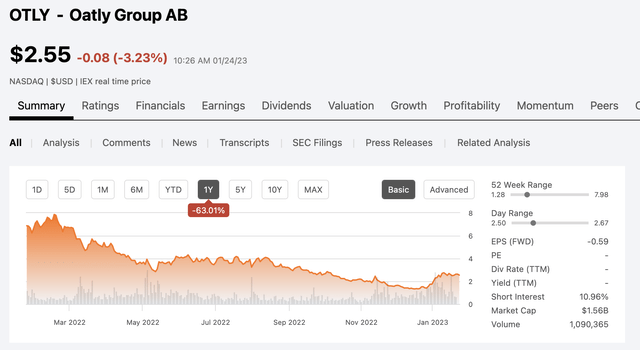 I consider Oatly to be a massively inflation-dependent, inefficient, production-challenged, and overoptimistic organization and product portfolio, that will ultimately fail entirely or be bought up.
When it comes to things like this, what you want is scale, shelf spacing power, production capacities, and CapEx flexibility. It doesn't matter if you take your coffee with dairy milk or plant-based milk – I consider it much more likely that Danone can become the pricing-power leader and product category leader here with time, even if other companies like Oatly show the way in terms of product. In the end, I don't care about product innovation, if it doesn't come with bottom-line innovation.
Many of these new companies don't, and they're not newly-started businesses.
Here is the 3Q22 sales bridge for Danone.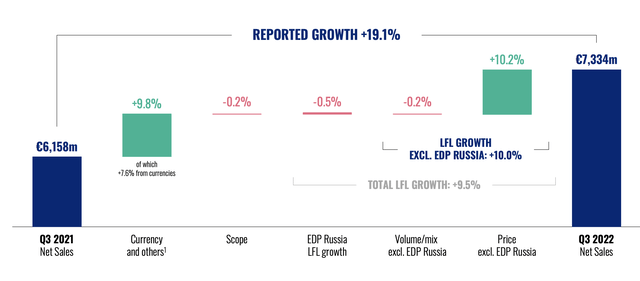 So you can see where the negative impacts come from. You can also see that all the reported growth is either from FX, or from pricing, which means that Danone has actually not sold any more products (less in fact), but just bumped the pricing on what it sells. This is not unique – many companies and also companies in the space of consumer staples are doing exactly this to make sure to retain their margins, and Danone has done well.
The highlight, I would say, is that Danone is guiding for a retained operating margin, and that volume/mix has only seen very minor declines despite the significant price pushes that have been going on. This means that most consumers don't seem to be shifting to private or alternative labels or producers. Let's not forget that most/none of the other producers are immune to any of these trends. In fact, I believe it fair to say that smaller producers, like Oatly, are hit far worse by the current trends in inflation and SCM, depending on where they operate. Larger companies like Danone are, as I believe it, likely to outperform.
We also don't need to pretend that Danone hasn't faced margin pressure before – even in the past 10 years – and has always found ways to come out on top and raise it back to the 15% mark, which is where we want to see the company coming in.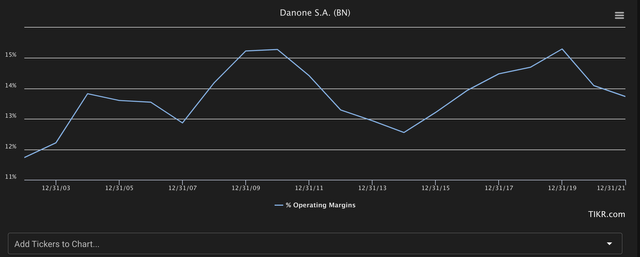 Let's move on to valuation and see where this latest quarter puts us in terms of what we should be willing to pay, or not to pay, for Danone.
Danone's valuation – it's cheap enough
Danone was cheap the last time I wrote about it. I believe it to be even cheaper today, and I don't see it really being justified in light of the company's current performance.
The company has significantly underperformed, leading to a current normalized P/E valuation of ~14.5. That is more than 10x less than Nestlé. That's still significantly less than every relevant European public comp – even the Swedish ones. It trades at a native yield of nearly 4%, even on a conservative forecast.
Those are some great numbers – and Danone still has a very conservative debt in terms of comps here, with 95%+ financed by bonds. Now, my previous forecasts of growth weren't technically wrong – the company did manage to grow its top line significantly. The problem is the quality/source of that growth because it was mostly pricing. The company also guided to a 15% OM, which is obviously not achievable in this environment.
Still, based on even just 2-3% EBITDA growth on an annual basis and using this for a conservative DCF, we find a DCF valuation range that comes from €43-€46 – which like with my first article, is actually below the current share price. There are, of course, explanations for this. Once we model growth rates that reflect the company guidance, that target quickly goes above €55/share – but I won't be guiding for a 5% near-term cash flow growth rate until the company delivers margins and some proof of better growth here, given many years of declines – and given the declines, we've seen in this context here.
This also illustrates why you can't just use DCF to model a company. It's something I see too often, which is why I use multiples, and NAV and compare these to sector averages, as well as to analyst averages to arrive at my own targets.
The current overall valuation targets looking at other analysts come to a range of €41 to €70, with an average of €55, implying an undervaluation of 10.3% at this time. 12 out of 22 analysts are at a "BUY" here. This is mostly unchanged for the past year or so. My last PT was around €65/share – I'm lowering this to reflect the company's margin, pricing, and other challenges to where I'm looking at €58/share, an upside of about 12% based on today's share price.
As I wrote in my first article on Danone – Nestle is the company I'd buy no-nonsense as soon as it's cheap – and I have. Danone, I want to keep a closer eye on it.
However, keeping an eye on it or not – I view the company as appealing here.
I give the company a refreshed PT of €58/share here and the following thesis.
Thesis
Danone is one of the largest food companies on earth. It is less qualitative and less safe than Nestle, which is also why my position in Danone is far smaller than in Nestle, but it's the world's biggest Dairy company, with a #1 market share in Yogurts.
While the company is facing pressures on the margin side, and with sales as well as leaving behind Russia, the fundamentals of the company remain sound and attractive. I consider this business to be appealing here, even if the company is no longer as dirt-cheap as we've seen it being.
I give Danone a 2023 updated PT of €58, and I consider it a "BUY" here.
Remember, I'm all about:
Buying undervalued – even if that undervaluation is slight and not mind-numbingly massive – companies at a discount, allowing them to normalize over time and harvesting capital gains and dividends in the meantime.
If the company goes well beyond normalization and goes into overvaluation, I harvest gains and rotate my position into other undervalued stocks, repeating #1.
If the company doesn't go into overvaluation but hovers within a fair value, or goes back down to undervaluation, I buy more as time allows.
I reinvest proceeds from dividends, savings from work, or other cash inflows as specified in #1.
Here are my criteria and how the company fulfills them (italicized).
This company is overall qualitative.
This company is fundamentally safe/conservative & well-run.
This company pays a well-covered dividend.
This company is currently cheap.
This company has a realistic upside that is high enough, based on earnings growth or multiple expansion/reversion.
I can't fault anything with the company here – at the double-digit upside, it's cheap, and the rest works as well.
Options for Danone
So, Danone has some options available as well. Not the most popular to go for here, but I was able to find the following PUT option for Danone as of today's market.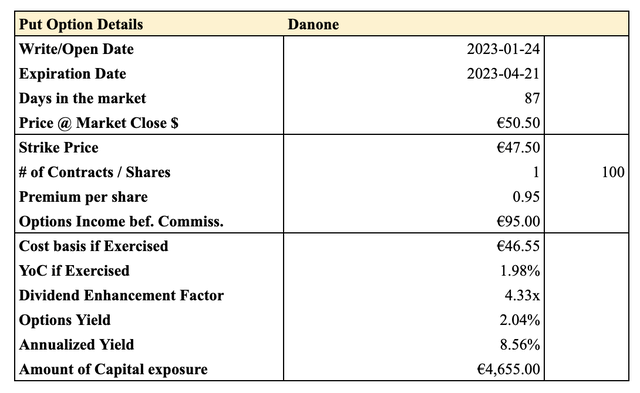 Honestly, this put is barely worth showing, but it reflects well the lack of a risk premium available for this company, given how its already underperformed. And it might be worth highlighting, that ~8.5% on a French "Blue-chip" is there.
I'm not writing that, I'm buying common shares, but it gives you an idea what the options chains are looking like here.
Questions? Let me know!
Editor's Note: This article discusses one or more securities that do not trade on a major U.S. exchange. Please be aware of the risks associated with these stocks.