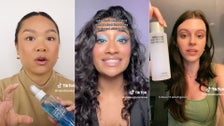 The latest TikTok trend might make your bank account happy.
Over the last month, beauty influencers ― a group that generally sings the praises of makeup and skin care brands ― have dabbled in deinfluencing. The trend involves TiKTokers urging followers to think twice about impulse-purchasing certain cult-favorite products.
Content creators are throwing everything under the bus, including untouchable, holy-grail products like Olaplex's shampoos and conditioners and Too Faced's Better Than Sex volumizing mascara. They're also warning against spending money on majorly expensive products like Dyson's $599.99 Airwrap hair styler.
"Here are all the things I will deinfluence you from buying as somebody that spends thousands of dollars on health, beauty, hair products, but loves to save a buck," TikToker Alyssa Kromelis says in her deinfluencing video, which has racked up over 5.4 million views.
In the video, Kromelis suggests dupes for more expensive products she says are not worth the hype. For instance, she recommends buying Wet n Wild's MegaGlo Makeup Stick ($4.99 at your local drugstore) instead of Charlotte Tilbury's $42 Glowgasm Beauty Light Wand Highlighter. ("Horrible, I hate this, never use," the influencer says of the product.)
Kromelis considers videos like hers "recession-core influencing." When the price of eggs has increased by nearly 60% over the last 12 months, most of your followers aren't looking to buy $30 lipgloss; the content you're creating has to fit with the times, she said.
"As our economy in the U.S. has taken a turn for the worse, people have less and less disposable income to spend on their personal care," she said. "So by offering more affordable options, or dupes, I'm allowing people to still feel like they're still part of trends that are going on."
The same day Kromelis' video took off on TikTok, beauty content creator @katiehub.org went viral on the app for her brutally honest review of Dior makeup.
In another deinfluencing video, beauty influencer Rachel Finley walks the aisles of Sephora, dragging beloved items that she says don't actually work.
"It's time to leave sunscreen powders in the past," Finley says, holding up Supergoop's mineral powder sunscreen as an example. "You're getting less than 2% of the protection stated on the label. These are not effective sunscreens."
Non-makeup content creators are getting involved, too. In one video, sustainable fashion influencer Hudi Charin (@thethriftythinker) takes Kim Kardashian's Skims to task.
"I don't know why anyone's still buying from Skims when there are so many better, ethical and sustainable alternatives and they're literally the same price point," she says, recommending brands like The Girlfriend Collective and Gaia Garments instead.
The "deinfluencing" trend coincides with MascaraGate ― a TikTok kerfuffle centered around Mikayla Nogueira, a makeup artist who was accused of wearing eyelash extensions in a video touting a L'Oréal brand mascara.
MascaraGate led to a conversation about influencer culture and the glut of fawning, too-good-to-be-true product reviews on TikTok. Critics say content creators will happily put up a dishonest positive product review as long as they're rewarded with brand deals, sponsorship and a steady stream of freebies.
Given the backlash to influencer culture, marketing professor Americus Reed II isn't surprised by the deinfluencer trend.
"What we often see in marketing, which is deeply integrated with pop culture, is a constant pendulum of trend and counter trend; an ebb and flow such that when one consumer sentiment goes extreme, there's a natural course correction to move the other way and towards the 'middle,'" the Wharton School professor told HuffPost.
The deinfluencer movement is influencer culture self-regulating and course-correcting after years of being clocked as super-curated and lacking in authenticity.
"It's like the TikTok version of when Dove's 'Real Beauty' campaign dropped [in the early 2000s]," Reed said.
Isn't deinfluencing a little hypocritical, coming from influencers?
Influencers admit that the concept of deinfluencing is kind of ironic: At its heart, "buy this, don't buy that" is still influencing and driving consumerism.
Plus, telling someone something is "the worst" isn't going to be true for everyone, as Kromelis noted.
"I do think the deinfluencing trend is less about how 'bad' or 'good' a product is, and more about convincing people that not everything is worth the crazy hype," she said.
Anything that helps people monitor their conspicuous consumption can't be that bad, said Karen Wu, a beauty content creator who goes by @cakedbybabyk on TikTok.
"We're constantly fed the rhetoric that everyone needs every single viral product, and audiences are growing tired," she told HuffPost. "I've made several videos on my channel talking about a range of products that I hate, as well as viral products that I won't even try."
Wu spends a few hundred dollars a month on makeup and skin care, while the other products she reviews are sent from brands.
"I know that talking about consumerism is ironic coming from a beauty content creator, but I believe there's a delicate balance that can be struck if done correctly," she said.
Do influencers like Wu worry that brands might be less inclined to reach out with partnerships and freebies if they're hypercritical of them?
"I actually think the opposite, to be completely honest," she said. "There are many brands that value authenticity, and if they don't, then it's not a brand that I'd want to work with anyway."
Madison Potter, an influencer and brand strategist, said smart brands will look at deinfluencing as an opportunity for consumer research, something they'd usually spend thousands of dollars on.
"As a strategist, this information is a goldmine," she told HuffPost. "Deinfluencing is unique in the way that creators are directly telling brands there's a lack of trust. It's a chance for brands to listen to consumers and adjust their marketing efforts."
Some PR specialists and brand strategists are a little more skeptical.
Alex Paquin, the founder of the ad agency Zerotrillion, told Insider.com that brands may be more cautious about vetting influencers they reach out to.
"Brands have to ask themselves, 'What is this influencer's propensity to turn on us in the event that their followers don't like the content they make for us?'" Paquin told the site. "Influencers need to be careful not to be too quick to use this trend as an 'oopsie button' for partnerships they're mildly self-conscious about."
Ideally, deinfluencing leads to people getting more educated about influencer culture.
For some content creators, this moment is more about education than about what not to buy or what dupes to swap in.
Monica Ravichandran, a product manager and beauty content creator, wants her followers to give some thought to who they let influence them on TikTok and question whether a cult-beloved product is really worth their hard-earned coin.
In her deinfluencing video, she suggests people ask questions of themselves like: Do I really need to buy this hot new viral foundation when I already own one that works just fine for me? And does this influencer have the same skin type or tone as me? (As a person of color, Ravichandran said she was swayed to buy the wrong products while following mostly white content creators early on her in makeup journey.)
Ravichandran, who gets some freebies but spends about $500 a month on beauty products, also talks about the need for "influencer integrity."
"To me, influencer integrity means a creator who has built trust and honesty with their community by building a brand based off of authenticity," Ravichandran told HuffPost.
Not everything is "amazing" or "awful." It's usually more nuanced than that ― experiences with any one product will vary.
"I actually don't believe in a 'bad product' and really just believe that the product wasn't a right one for either your skin tone or our skin type," Ravichandran said. "That's why when I review products I don't like I always mention who that product might work for instead."
Jessica Clifton, a sustainability content creator who runs the TikTok account @impaectforgood_ , doesn't necessarily think the trend will result in a massive sea change on the app: "TikTok culture loves product videos too much."
Still, as someone who has been speaking about the ills of overconsumption culture for years, she said it's exciting to thousands of people engage with deinfluencing. In the words of overgenerous TikTok reviews, it truly is "amazing" if people are inspired to buy less, Clifton said.
"Embracing simplicity and learning to be content with less is so much better for our mental health, wallets, and the environment."