While you may feel pretty comfortable at your regular salon or barbershop, sometimes clients can get a little too comfortable, and the professionals with the scissors just wish people would, well, cut it out.
There are certain actions people might not realize are rude, but they have a major impact on the hairstylist's ability to perform their job or the experience of other customers and staff members in the salon. They can even negatively impact the rest of the stylist's day long after you exit the premises.
To help everyone better understand the most respectful way to behave while getting their hair done, we interviewed six long-time hair pros from salons around the country to ask about the rudest behaviors they regularly witness from their clients.
1. Arriving Late
Among the stylists polled, the No. 1 complaint was customer tardiness. "A single late customer can create a domino effect on a whole day's work schedule," explained Viktor Holas, who has been a barber for eight years and currently works at San Diego's Wise Barber. "This means that other clients will be forced to wait despite being there on time. It also puts more pressure on the stylist to work as fast as possible to restore the original timeline."
Furthermore, "lateness can end up denying your hairdresser their usual 5 to 10 minutes of much-deserved rest in between cuts," Holas said.
If you're unexpectedly running late, call your salon as soon as possible to let them know. And when you arrive, be mindful of helping the remainder of the appointment go as smoothly and quickly as possible to avoid a backlog.
2. Talking On Your Phone
"There are levels to this," noted 12-year industry pro Yvey Valcin, who heads up Seattle's Yvey Salon. If the call is important, such as regarding your children or work, try to make it quick and keep your voice low. "But if it's just a casual conversation," Valcin added, "that is not very respectful."
If you do have to make a quick phone call during your appointment, don't ignore your stylist in the process. "If [you are] asked questions about your cut or styling, reply right away" added Olya Iudina, a stylist for 15 years who is with New York City's IGK NYC.
3. Wasting Time During The Appointment
"After arriving 15 minutes late, a client had a phone conversation for 10 minutes. When they hung up, I had to tell them I no longer had time to cut their hair and they were furious," recalled hairstylist Andrea Cottin, who has 13 years of experience and works at Portland, Oregon's Propaganda The Salon.
If you have to interrupt your service to step away for an emergency phone call, don't expect to "resume full service as if nothing happened," said Justin Kafando, a New York-based barber with the Barber Surgeons Guild who has over 20 years of experience. To avoid delaying subsequent clients' appointments, your stylist may have to rush or might not be able to complete the same services as if there were an uninterrupted appointment.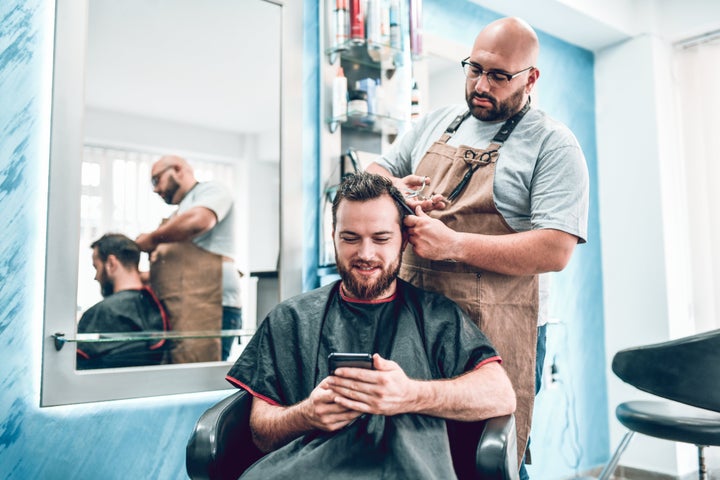 4. Coming To Your Appointment Sick
Stylists agree they would rather a client call in sick than sit in their chair while spreading germs. In coming in contagious, you not only put your hairstylist at risk of getting sick, but the other stylists, clients and staff as well.
"If anyone contracts the same sickness, they'll be forced to take a sick leave, and you'll have unintentionally taken them out of business for a couple of days," Holas said. "This also means canceling several days' worth of appointments, which will be more inconvenient for us, and the clients affected by the cancellations."
5. Disrespecting Salon Property
When you're at a hair salon, you should behave as if you're a guest in someone's home, which means respecting their property. Ricardo Rojas, a hairstylist for 30 years who has owned four salons including Ricardo Rojas Salon in New York City, recalled a time shortly after the salon was redecorated with beautiful new chairs. "[A client] was eating a piece of cake with her hands," Rojas said. "She put the cake down directly on the silk chair so she could shake my hand. I was appalled."
Another absolute no: Touching the stylist's equipment without permission. "We take pride and really good care of our tools as they are expensive and must be in perfect shape to offer a perfect cut," Kafando explained.
6. Moving Around And Not Sitting Still
The way you sit in the stylist's chair can impact their ability to do their job. A major pet peeve for hair professionals is when clients are "getting up every two seconds to look in the mirror," Kafando said. "We know your hair doesn't look great unfinished. We are getting there!"
Furthermore, a client who is "sitting crooked or constantly having their head down can make it difficult to cut and color the hair," Cottin noted. If you're looking down at your phone during your appointment, try to ensure that it doesn't affect your posture in a way that's detrimental to the stylist.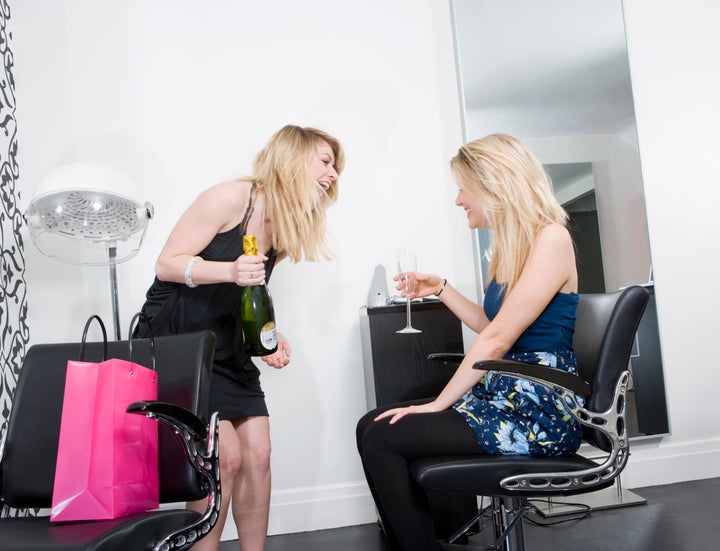 7. Taking Advantage Of The Free Snacks And Drinks
Some salons provide complimentary refreshments such as coffee, tea, snacks or even alcoholic beverages. Of course, you may accept any refreshments you're offered, but can you ask for refills? And is it OK to swing by the snack table more than once?
"More than one refill of alcoholic beverages is generally frowned upon," Cottin advised.
"Refills aren't usually on the initial budget and might end up being costly for your barber," added Holas, who warned against "turning the refreshments corner into [your] own personal buffet."
8. Not Being Prepared To Tip Everyone Who Served You
While cash tips are generally preferred, many salons offer alternatives if you don't have bills handy such as money transfer apps, ATMs or tipping on a credit card. If you're happy with the service you've received, the stylists polled agreed that 20% of the cost of service is an appropriate tip for your main stylist.
"You should tip your colorist, stylist and the assistants if they were helping wash or blow drying your hair," noted Iudina, who added that $5-15 is usually an appropriate tip for assistants regardless of the cost of service.