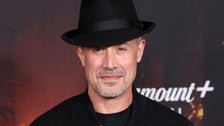 Freddie Prinze Jr. is describing his experience on the set of 1997's "I Know What You Did Last Summer" like it was a horror movie.
Prinze went into detail about how much of an "asshole" director Jim Gillespie was to him on the set of 1997 slasher in an interview with TooFab published on Tuesday.
Yet despite all the allegations Prinze makes against the director, he also admitted that in retrospect he's grateful for the terrible working conditions because they "prepared me for this business in a way."
"I'm forever grateful to Jim for being such an asshole because I've never met one like that since," Prinze told TooFab. "No other director I've met felt crossing those lines would be OK. I've been prepared for every lesser A-hole in the business."
Prinze claims in his interview that Gillespie gave him "psychotic notes," like "Don't leave your mouth open. You look stupid when you do that."
He said the director was so rude to him on set because writer Kevin Williamson and the studio wanted him in the role of Ray, but Gillespie preferred actor Jeremy Sisto. Prinze said that Gillespie "made no bones about" his disdain for the fact that he was cast instead of Sisto.
"There was no passive-aggressiveness — which I hate — he was very direct in the fact that, 'I don't want you in this movie,'" the actor said.
Gillespie says otherwise of Prinze's casting. He told Digital Spy in 2017 that he fought for him to get the role.
"Nobody wanted Freddie; they thought he was too soft, he wasn't muscular enough, so Freddie probably screen-tested four or five times," Gillespie said at the time. "He got to the point where he was saying, 'I'm done,' and I really had to plead with him to stick with it because I wanted him."
Despite opposing claims, Prinze said, Gillespie tended to single him out, leaving him "in pain" and making it a "struggle to finish work" every day.
"I wanted to fight that guy two or three different times. Once I felt was a legitimate reason, and the other two I was just pissed off, which, that's not right," the actor acknowledged.
That one legitimate reason may have been a "near-death experience" Prinze mentioned that took place during filming.
On Wednesday's episode of his podcast "That Was Pretty Scary," which centers on the horror movie genre, Prinze went into detail about a stunt on the set of "I Know What You Did Last Summer" that went wrong.
The actor said they were filming the movie's boat scene — in which Prinze's character, Ray, jumps from a speedboat to a fishing boat to rescue Jennifer Love Hewitt's character, Julie (watch it below).