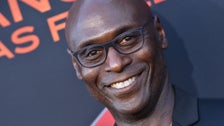 Actor Lance Reddick has died, according to media reports. He was 60.
Reddick was found dead at his home in Los Angeles, Variety and TMZ reported. His cause of death is unclear.
The actor starred in several movies, including in the "John Wick" franchise, but was perhaps most notable in his role as Lt. Cedric Daniels in "The Wire," a dark drama tackling crime and policing in the city of Baltimore, where Reddick is originally from.
"It's such a milestone in television history that it would be foolish of me to be anything other than honored to be a part of it," Reddick said of his time on "The Wire" in a 2012 interview.
This is a developing story. Please check back for updates.