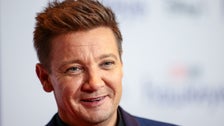 Jeremy Renner is updating his fans about his road to recovery after suffering dozens of broken bones in a near-fatal snow plow accident.
On Sunday, the Marvel star shared a clip of himself walking on an assisted treadmill during one of his recent physical therapy sessions.
"I now have to find OTHER things to occupy my time so my body can recover from my will," the 52-year-old "Avengers" actor wrote alongside the video.
In January, Renner was struck and severely injured by a snowcat on New Year's Day while trying to prevent his nephew from getting hit by the vehicle.
He had been using the PistenBully snowcat to tow his nephew's truck out of the snow when it began sliding downhill, critically injuring Renner and leaving him with more than 30 broken bones.
After being airlifted to the intensive care unit of a regional hospital near his home in Reno, Nevada, Renner underwent multiple surgeries for "blunt chest trauma and orthopedic injuries."
Since Renner's accident, the two-time Oscar nominee — who returned home on Jan. 16 — has shared numerous updates on his healing process.
"Morning workouts, resolutions all changed this particular new years …. Spawned from tragedy for my entire family, and quickly focused into uniting actionable love," he wrote on the post, alongside a photo of himself in bed.
"These 30 plus broken bones will mend, grow stronger, just like the love and bond with family and friends deepens. Love and blessings to you all," Renner added.
Just weeks after his accident, the "Hawkeye" actor teased his new upcoming TV series "Rennervations" on Instagram, which he says will debut on Disney+ "as soon as I'm back on my feet."
"We are so very excited to share the #rennervations show with you all on @disneyplus coming very soon!!!," Renner wrote on Instagram alongside a photo from the show. "We are coming to YOU, all across the globe… I hope you're ready!!!"